Home
» IMPORTANT NEWS FOR UPSC 20 SEPTEMBER - 3 OCTOBER
IMPORTANT NEWS FOR UPSC 20 SEPTEMBER - 3 OCTOBER
Yashwanth sinha's article
Private investment has shrunk as never before in two decades, industrial production has all but collapsed, agriculture is in distress, construction industry, a big employer of the work force, is in the doldrums, the rest of the service sector is also in the slow lane, exports have dwindled, sector after sector of the economy is in distress, demonetisation has proved to be an unmitigated economic disaster, a badly conceived and poorly implemented GST has played havoc with businesses and sunk many of them and countless millions have lost their jobs with hardly any new opportunities coming the way of the new entrants to the labour market.
For quarter after quarter, the growth rate of the economy has been declining until it reached the low of 5.7 per cent in the first quarter of the current fiscal, the lowest in three years.
The performance of the monsoon this year has not been flattering. This will further intensify rural distress.
The farmers have received "massive" loan waivers from some state governments varying from one paise to a few rupees in some cases. Forty leading companies of the country are already facing bankruptcy proceedings
The input tax credit demand under the GST is a whopping Rs 65,000 crore against a collection of Rs 95,000 crore. T
he government has asked the income tax department to chase those who have made large claims. Cash flow problems have already arisen for many companies specially in the SME sector.
ECONOMIC ADVISORY COMMITTEE
Prime Minister Narendra Modi reconstituted the Economic Advisory Council under the chairmanship of NITI Aayog member Bibek Debroy.
The move, which comes in the backdrop of increasing concerns over weakening GDP growth momentum, signals that the prime minister will be closely scrutinizing future economic policy.
After coming to power in 2014, the National Democratic Alliance (NDA) disbanded the PMEAC, which was earlier headed by former Reserve Bank of India governor C. Rangarajan.
The apex body has been reconstituted at a time when the government is considering a more aggressive fiscal push in Union Budget 2018, likely to be presented on 1 February.
Opinions:
"The intention behind the advisory council is to help in reviving the economy since growth stagnation is a serious issue. What is important for the government is to clearly distinguish the role of NITI Aayog, economic advisory council and the chief economic adviser," said Madan Sabnavis, chief economist at CARE Ratings Ltd.
The revival of the PMEAC signals the government's effort to tap economists for new ideas on the economy. Recently, the government inducted Rajiv Kumar, former economic adviser in the finance ministry, as the chairman of NITI Aayog. Last week, it extended the tenure of Arvind Subramanian, known for his out-of-the-box ideas, as chief economic adviser by a year.
Finance minister Arun Jaitley said last week that his ministry would soon announce measures to revive economic growth that decelerated to 5.7%, the slowest pace in three years, in the quarter ended June. There has been speculation that the revival package could include incentives for exporters, fiscal sops and investments in large infrastructure projects.
The slowing of GDP growth in the June quarter triggered concerns, especially regarding flagging consumer demand.
The Indian economy faces "serious downside risks" as the government's demonetisation drive, implementation of the goods and services tax (GST) and corporate debt reduction efforts could accelerate a slowdown and make recovery difficult, the United Nations Conference on Trade and Development said in a report earlier this month.
Background:
Economic Advisory Council to the Prime Minister (PMEAC) is a non-constitutional, non-permanent and independent body constituted to give economic advice to the Government of India, specifically the Prime Minister.
The council serves to highlight key economic issues facing the country to the government of India from a neutral viewpoint.
It advises the Prime Minister on a whole host of economic issues like inflation, microfinance, industrial output, etc.
Src: Mint
Govt estimates 2.8% dip in kharif crop output in 2017-18
Production of the kharif (monsoon) crops this year is likely to be lower than last year, the agriculture ministry said in its first advance estimates, with the only exception being sugarcane.
Production of foodgrains such as rice, pulses and coarse cereals is likely at 134.7 million tonnes in 2017-18, about 2.8% below last year's record crop of 138.5 million tonnes, ministry estimates showed.
Production of oilseeds—on which India is heavily import-dependent—is likely to fall by 7.7%, from 22.4 million tonnes in 2016-17 to 20.68 million tonnes in 2017-18. For cotton, despite 19% higher sowing year-on-year by farmers (who reduced area under pulses), production is estimated to fall from 33 million bales (one bale equals 170kg) last year to 32.3 million tonnes in 2017-18 due to lower productivity, the ministry said. The lower summer crop of 2017-18 compared to the record harvest last year is likely due to the uneven spread of the June to September south-west monsoon, which waters over half of India's crop area lacking assured irrigation.
So far, the monsoon has seen a deficit of just 5% compared to the 50-year average, but data from the India Meteorological Department showed that till Sunday, about 212 of the 630 districts in India from where data is received daily, have seen deficit rains of at least 20% compared to normal, while 100 districts have seen excess rains of 20% or more compared to normal.
Patchy rains in parts of India were also accompanied by floods leading to loss of lives and crops in Gujarat, Assam, West Bengal, Bihar and Rajasthan.
A lower summer crop in India means agriculture growth may slide from the high of 4.9% recorded in 2016-17 (following consecutive years of drought in 2014 and 2015) unless compensated by a higher winter (rabi) harvest and higher growth in non-crop sectors like forestry, fisheries and livestock.
"With a negative growth in kharif output, I would lower my estimates of 2.5% growth in agriculture sector; at best, we are looking at a four-year average growth of about 2% (2014-15 to 2017-18) under the Narendra Modi government," said Ashok Gulati, agriculture chair professor at the Delhi-based Indian Council for Research on International Economic Relations.
"The uneven spread of monsoon definitely had a role to play this year. In states like Gujarat, floods impacted vast areas while prolonged dry spells in parts of Maharashtra and Madhya Pradesh hurt crop output," Gulati said, adding, "the poor crop this year is certainly not a good sign for worsening distress in the farm sector which employs about half of the country's working population."
A ministry statement said production of most crops, although lower year-on-year, is higher than the five-year average (2011-12 to 2015-16).
Estimates by the ministry showed that production of kharif pulses, mostly grown under rain-fed conditions, is likely to fall 7.5%, from 9.4 million tonnes in 2016-17 to 8.7 million tonnes in 2017-18. Among different oilseeds, production of soybeans is set for the sharpest dip—by an estimated 11.5% year-on-year.
The only kharif crop to buck the trend of lower production is sugarcane, which is estimated at 338 million tonnes in 2017-18, about 10% more than the previous year.
Src: mint
EAC Reconstitutes & Downfall in Kharif crops
SAUBHAGYA SCHEME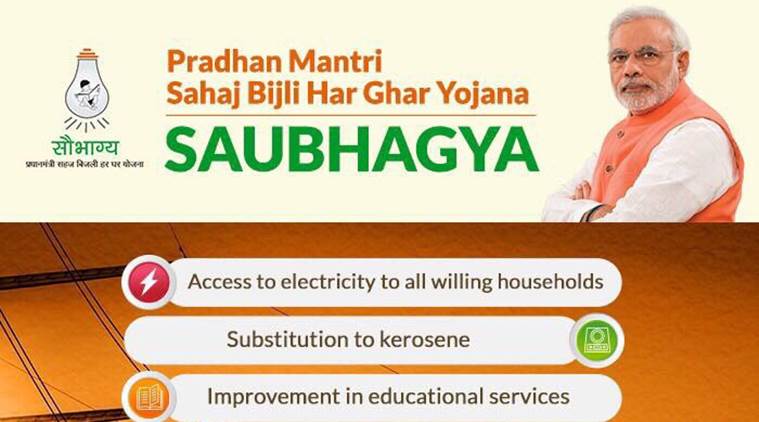 Prime Minister Narendra Modi launched the Rs16,320-crore Pradhan Mantri Sahaj Bijli Har Ghar Yojana, or Saubhagya, to provide electricity connections to over 40 million families in rural and urban areas by December 2018.
What is the scheme all about?
The scheme funds the cost of last-mile connectivity to willing households to help achieve the goal of lighting every household by 31 December 2018.
Why was it launched?
Despite the government's aggressive village electrification programme, the Deen Dayal Upadhyay Gram Jyoti Yojana launched in July 2015, under which 78% of 18,000 villages have been electrified, it was realised that the problem of electricity 'access' wasn't resolved. A village is declared to be electrified if 10% of the households are given electricity along with public places such as schools, panchayat office, health centres, dispensaries and community centres.
With a large number of household still remaining without access to electricity, the scheme aims at ensuring the coverage of households as opposed to only villages.
How will it help?
It was seen that the electricity distribution companies (discoms) don't want to supply to the villages even if the electrification has taken place. By providing electricity access to all households with prepaid and smart meters, demand will be created which in turn will force the discoms to supply to these villages.
Any other benefits?
The scheme will help India, the world's third-largest energy consumer after the US and China, to help meet its global climate change commitments as electricity will substitute kerosene for lighting purposes. Lighting in turn will also help in improving education, health, connectivity with the multiplier effect of increased economic activities and job creation.
Is it a scheme that entails subsidy payout?
No. With no subsidy component for monthly electricity consumption, the Gram Panchayat and public institutions in the rural areas will be authorised to carry out billing and collection tasks which have been pain points for the discoms.
States have also been provided with an incentive of 50% of their loan being converted to grants, if the electrification targets are met by 31 December 2018.
How will it work?
To ensure on-the-spot registration, mobile applications will be used. While free connections will be provided to below poverty line (BPL) households, even those not covered under this category can avail it by paying Rs500 in 10 instalments of Rs50 each along with their monthly bill.
For those household where the national electricity grid can't reach, households will be provided with solar power packs along with battery banks. State-run Rural Electrification Corp. is the nodal agency for the scheme.
How will the beneficiaries be identified?
The beneficiaries for free electricity connections will be identified using Socio Economic and Caste Census (SECC) 2011 data.
INDEPENDENT KURDISTAN
The widespread criticism of the recent Kurdish independence referendum has been grounded in the self-interest of the Kurds' opponents. The Kurds' right to self-determination has received little attention.
First, some history. The Kurds have been around for more than two thousand years, with linguistic and other links to Persia. In modern times, the Kurds have been oppressed by Turkey, betrayed by Britain, and butchered by Saddam Hussein. Most recently, the Iraqi Kurdish Peshmerga fighters (the name means "facing death") have been among the most effective troops in the war against Islamic State.
The roughly 30 million Kurds live primarily in Turkey, Syria, Iran, and Iraq – finding themselves within those countries' borders after World War I. Although the September referendum took place in Iraq's autonomous Kurdish region, it set off alarms not only in Baghdad but also in Turkey and Iran, which fear separatist activity among their own Kurdish populations.
Despite their help in fighting against Islamic State, the Kurds have been treated with condescension when they assert themselves. U.S. Secretary of State Rex Tillerson said of the referendum, "The vote and the results lack legitimacy" and "We remain concerned about the potential negative consequences of this unilateral step." Of course, if the Kurds did not take "unilateral steps," they'd probably wait centuries more before achieving independence.
The main factor making the notion of an independent Kurdistan intolerable to Iraq's central government is, not surprisingly, oil. Northeastern Iraq, where most of the country's Kurds are, is rich in oil reserves. This is, however, also a vulnerability for the Kurds, because as the price of oil has dropped, the Kurdish economy – which just a few years ago was booming – has suffered accordingly. Oil has little value if it cannot be moved to markets, and the Kurds' principal pipeline can be blocked by Turkey. This and other economic penalties that Iraq and its neighbors can impose on Kurdistan make achieving true independence extremely challenging.
The United States has been decidedly unhelpful to the Kurds, choosing instead to champion, in Tillerson's words, "a united, federal, democratic, and prosperous Iraq," which is likely to prove more illusory than real. Further, the current U.S. administration lacks coherent policies that would allow it to deal effectively with Turkey and Iran, which are already taking punitive steps against the Kurds.
Tillerson also urged the Kurds "to engage constructively in dialogue to improve the future of all Iraqis." The point that eludes Tillerson is that although the Kurds may live in what the great powers deem to be Iraq, they do not consider themselves to be "Iraqis." They are Kurds, and they see their future as something separate.
Most striking in the American response is the willingness to ignore this country's own history. In 1776, our Declaration of Independence was a "unilateral step." England's King George III went to war because he believed the Americans' aspirations "lacked legitimacy." But from this illegitimate unilateralism emerged a great nation. The Kurds might not match that achievement, but they deserve to be allowed to try.
SRC: Huffingtonpost
JAMES MATTIS VISIT TO INDIA
IND-US RELATIONS
NASA's SOLAR PROBE
Parker Solar Probe is a planned NASA robotic spacecraft to probe the outer corona of the Sun.
It will approach to within 8.5 solar radii (5.9 million kilometers or 3.67 million miles) to the 'surface' (photosphere) of the Sun.
The launch date has since been pushed back to 2018.
A Delta IV Heavy launch vehicle will enable the mission to become the fastest spacecraft to date. On May 31, 2017 the probe was renamed after solar astrophysicist Eugene Parker. This was the first time a NASA spacecraft was named after a living person.
Council of Scientific and Industrial Research (CSIR) completes 75 years
Established in 1942

Autonomous body

Largest research and development (R&D) organisation in India.

Mainly funded by the Ministry of Science and Technology

Registered under the Registration of Societies Act of 1860.

The research and development activities of CSIR includes aerospace engineering, Structural engineering, ocean sciences, Life sciences, metallurgy, chemicals, mining, food, petroleum, leather, and environment.

Prime minister is the president of CSIR